Posts Tagged 'Guitar Hero'
Guitar Hero II Addiction and Awesome Band
So I've been playing the freakin' hell out of GH2 on the Xbox 360 and I've fallen in love with The Sword. This is an awesome band! After hearing Freya, I though it was a bit Clutch(ish) and a big dose of Sabbath (of course I think that Clutch has some Sabbath in their eclectic sound). After listening to more of the disc I'm floored by this band! I'm anxiously awaiting them to hit Ohio. I saw that they are or have toured with Clutch (another surprise after my thought on their sound). Damn this band is awesome!! Aside from them I think there are some other great bands on the GH2 list. I saw some of the stuff originally on GH2 and thought, WTF!!! I don't know this stuff but I'm happy to hear The Sword and several other bands that I had no idea existed!
Check The Sword out at Amazon!
As for my rock star status… I'm amazed at what I can do with that little guitar after a week. I remember feeling like a complete idiot trying to play things on easy and while I'm still an idiot, I did finish medium and at about 22/50 accomplishments. I finished Heart Shaped Box and Strutter on hard so far but I really need to get use to the 5th button but again I remember moving to medium and thinking OMG this is hard to use that 4th button (yeah I know lots of people think that's lame but everyone starts somewhere, have mercy on the more "mature" ;)). Need to go through the practice more to get use to doing combos on 4/5 with one finger and not losing my entire place on songs! hehe I can easily do 1/2 the songs at 100% on easy now, broke 200k for a song (Freebird), completed all of the easy at 5 stars. So Hard is the next accomplishment… I don't want to think about the next level. hehe
Guitar Hero II on the Xbox 360
Finally it's released! It was fairly quick to complete in Easy mode but I still suck at one of my favorite songs on it, I think it has something to do with my own impression of You Really Got Me and it screws me up, I finished it on easy and the next level but the redundant beat of it throws me off every time. I seem to do better on songs I don't know at all or very well. I was happy to get War Pigs unlocked and then I stopped before my left wrist fell off!
So far it's a lot of fun and think it will be a good entertainment piece when people come over. I'd say one of the biggest strategies for this game is to not focus on the song and focus on the fret buttons and it works better.
Ahh and of course my first (and only so far) purchase was the Zakk Wylde Bullseye for my Les Paul!
I seem to have flown through the (I think it's called) medium after I added that graphic to my guitar! Now I know where one of the absolute guitar gods gets it from and calls it the Grail! 😀
Here's the Wiki entry that has a good listing of information and song tracks. And remember Wiki is where anyone can add information, so it has to be accurate (to paraphrase Michael Scott).
Check it out at Amazon! Didn't find the strategy guide there… not sure if the one I did find applies to both PS2 and X360.
Here's a video of one of my other favorites from the game and not necessarily well played by IGN staff. 😀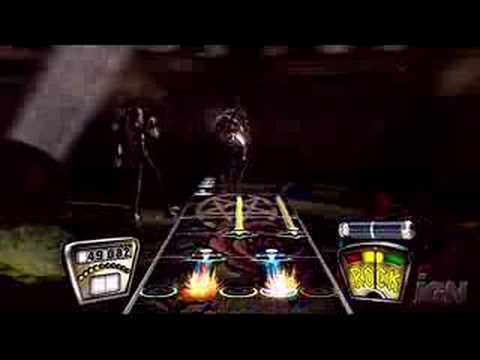 Guitar Hero II Coming Soon For The Xbox 360
I was browsing around tonight and found that Guitar Hero II will also be released on the Xbox 360! This is a great game and I'm glad they're finally making the port. It comes out for the PS2 on November 7, 2006 but there's no set date for the Xbox 360 other than 2007 but I'll be watching! 😉 They're also releasing a new guitar from what I read on another article but can't find the link again. I want a black version! heh No buy links are available yet for the Xbox 360 version.
For the PS2:
Source: IGN