Category: XBox 360
Titanfall
Something relevant on an entire site that's now irrelevant! lol  I'm enjoying Titanfall but the PC support sucks.  I picked it up on an Amazon special for $36 and it was well worth the cost.  I really have grown to hate Call of Duty and what it stands for in terms of a FPS.  It's such an arcade game without much else for a modern warfare game.  I enjoy the single player modes but the multiplayer is another story and I stick with the Battlefield franchise.
While I digress on Call of Duty, I will say that the implementation of Titanfall on that same type of platform is a lot of fun.  It reminds me a lot of games of old like UnrealTournament mixed with MechWarrior.  I still find myself trying to "spot" the enemy like Battlefield 4 but just jumping around and having fun is great.  I will say that after purchasing the season pass that it's a joke on the PC.  You find no one in the expansion and it's just sitting and waiting forever.  Luckily I've found that I can do a lot of other things while that's occurring now that I know how badly it's represented with player numbers.
So if you're going to pick up Titanfall, pick up the normal pack and don't waste your time on the expansion/season pass, it's a waste of money on the PC.
Pick it up on Amazon…
Game List to Finish…WOW
So I decided I need to start finishing games since I'm a bit meh about Battlefield 3.  Hoping the Karkand pack will bring me back around but just doesn't seem the same so my list:
PC:
Homefront (Most of the way through)
Crysis 2 (A ways to go)
Duke Nukem Forever (I got bored with the old-school boss fights, even though I am old-school)
Battlefield 3 SP/Co-Op (I may end up doing this on Xbox)
Xbox:
GTA IV, I got most of the way through but need to finally finish it.
L.A. Noir (most of the way through)
Red Dead Redemption (Not sure why I stopped this, loved it, I think Bad Company 2 got in the way)
Arkham City
Dead Space (Cyber Monday Pickup)
Dead Space 2 (another Cyber Monday Pickup)
Re-do MW and MW2 now that the series is ending.
Quite a list, we'll see how it goes.
Assassin's Creed: Revelations
I finally got into Assassin's Creed: Brotherhood.  I'm not that far into it, with a small amount of OCD and ADD I tend to get hooked on the little things like the training but I'm into it far enough to know that I want to get this and start moving early on with MP.  I did some time with the first one but I'm primarily a PC gamer and this is very much a console type game, at least for me.
So until GTA V comes along, this will probably be my Xbox mainstay.
Pre-order at Amazon, release date of 11/15/2011!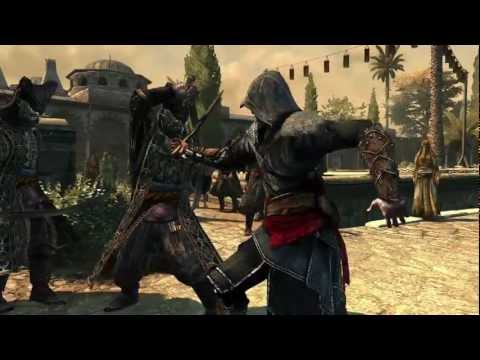 GTA V Trailer!
Looks great!  While IV was immersible and expansive, I hope the story moves along more in this one.
Duke Nukem Forever Reveal Trailer
The trailer is FINALLY here!
   Top of my list for this year!